Episode 7 • Brave New Film, Soup Kitchens & Mashed Potatoes
notes: This was a tasty one – I didn't quite know which turn it would take. Mary at the Dilworth Soup kitchen – who is one dynamic character (check out her instagram) – talks of bonding over a meal … we sample a new "Gives Good Headlines" segment , politics in a minute or less… we welcome new friends and say goodbye to a dear kindred, Tim Smyre, who taught me how to put the pizzazz in Fiestaware.
 Listen to "7. Brave New Film, Soup Kitchens & Mashed Potatoes" on Spreaker.
---
Film 1. Wolkenbruch's Wondrous Journey Into the Arms of a Shiksa
---
 Film 2. A Beautiful Day in the Neighbourhood
---
Fond farewell to one of the driest wits in Carolina, Tim Smyre.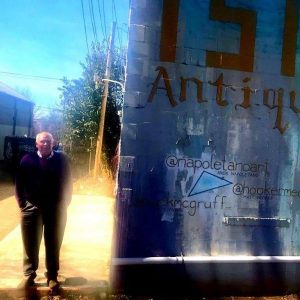 https://www.instagram.com/1510antiques/
---
Find Our Friend Mary O: Instagram  = @MOD.365
Dilworth Soup Kitchen: https://www.dilworthsoupkitchen.org/
---
Mashed Potatoes Recipe:
Ingredients:
Spring New Potatoes or Red Potatoes
Fresh chopped Dill & Chives, Spring Onions
 BUTTER
Chopped Garlic – at least 4 cloves
Salt
Pepper
Boil your Tatties
Melt Your Butter & Lightly Sautée your chopped garlic
Mash Your Tatties
Add melted Butter, Garlic, chopped Dill & Chives, Sprin Onions
Mash More
Serve
Top With Salt & Pepper
Go into a food coma.