Episode 9. Mary Knows Jazz, Pretend Protocol, Old Folk Love, Lockdown Practicalities
Listen to "LSP 9. Mary Knows Jazz, Pretend Protocol, Old Folk Love, Lockdown Practicalities" on Spreaker.

Late Supper with Martin Belk is now Distributed! Syndicated! Insert-Appropriate-Word-Here!
Apple Itunes • SPOTIFY ( spotify:show:2dVvLDd8BacyZk1MhY470B ) • iHeartRadio • Google Podcasts • Castbox (coming soon!) • Deezer • Podcast Addict • Podchaser • more to come!
---
Today we welcome writer, editor, poet, collagist & New Yorker Mary Folliet to the Late Supper Table (also: see BONUS episode 10 for a private poetry reading by Mary!)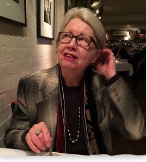 MaryFolliet.com
Mary can be reached for all your literary libations. She is currently collaborating with the great Jazz pianist, conductor & composer Kirk Lightsey on his forthcoming memoir called COMING & GOING: KIRK LIGHTSEY TELLS HIS STORY.
---
OLD FOLK LOVE
F*ck you Boris, Cummings, Trump & his "Lieutenant" Texas Jester. Our older generations are the most under-utilised, untapped resource. They've walked the walk. The very suggestion that they are somehow "expendable" in the time of this pandemic to "save the economy" is horse sh*t.
Info:
How can we build a better society for old people? – Guardian
Organizations for Older Americans to Know
Helpage – Advancing the Well Being & Inclusion of Older People Worldwide
American Association of Retired People
---
Pretend Protocol: Need ideas for staying inside? Use your imagination, like Anne Frank's family did – 
The Diary of Anne Frank, 1959
---
Virus Survival: People with OCD (Obsessive Compulsive Disorder) – wash your hands, don't wear them out!
Knowledge is power, the more you know the stronger you are…
International OCD network – extensive meetings and support resources
OCD UK – London Support Group & Resources – UK
OCD Action – Scotland • OCD ACTION – London • OCD New York – New York
---
Practicalities: Freezing Vegetables for your Supper Table

SHOCK THE BROCCOLI!
-Barefoot Contessa, Ina Garten
How to Freeze: Justapinch.com – very handy & useful – and it's organised by food type & offers a printable recipe card with instructions
All recipes.com – another generally good article
The 'Barefoot Contessa' Ina Garten Shares Her Pantry Staples for Enduring the Coronavirus Quarantine