Episode 10 • BONUS • Mary Folliet Poetry Reading (8 minutes)
We are delighted to welcome New Yorker & part-time Parisienne, poet MARY FOLLIET to the Late Supper Table for our very first, inaugural BONUS EPISODE and POETRY READING.
Mary took a break from her collaboration with Jazz Legend Kurt Lightsey and his forthcoming memoir COMING & GOING: KIRK LIGHTSEY TELLS HIS STORY to bring us a cool vibe.
Mary Reads from her portfolio:
The Geraldine Six • Ten Word Poems • TANKA for the Artists
Listen to "LSP 10. BONUS • Mary Folliet, Poetry Reading (8 min)" on Spreaker.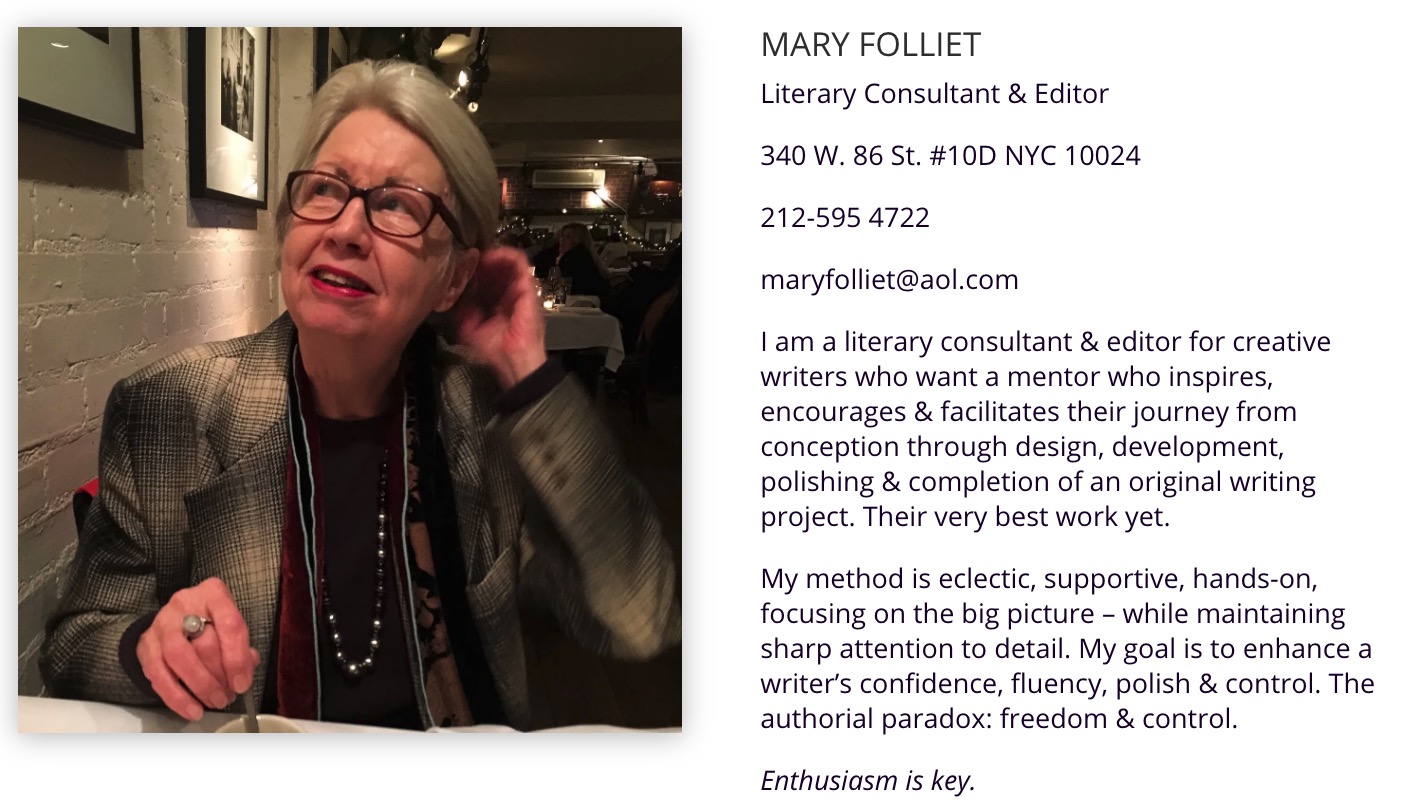 ---
Poetry by Mary Folliet ©2020 – "THE GERALDINE SIX"
LOCATION. LOCATION. LOCATION.
"I was the world in which I walked." –Wallace Stevens
"I had my existence, I was there. Me in place and the place in me." –Seamus Heaney
Where is all
At first luck of the draw
But better follow desire
Depart for dream destiny
On the road for some movers
While stayers stay put for good
Either way all roads Become dead ends
AGING WITH APLOMB
It's not that you can't remember,
you can't remember right now.
It's not that you can't think,
you can't think fast enough.
It's not that you can't read,
your eyes give out too soon.
It's not that you can't dance,
you can't dance with abandon.
It's not that you can't speak well,
you search for a lost word.
It's not that you can't love,
you take your time now.
You can't do anything just like you used to do.
Get used to it.
RACING TIME
missing thoughts or steps
in synaptic lapse or lunge
risks toe & tongue trips
EPIPHANY
"Life is beautiful and the world is hell." –Harold Pinter
all the bloody time
weather is everywhere
till death defeats breath
GAMING LIFE
"the black idea of winning" –Bertolt Brecht
there is no contest
no opponent
no side to take
no stakes to risk
no prize to win
no victory to hope
only moments to kill
& longing to live
OCTOBER REALITY CHECK
1
topaz tree tops flash
warning winter's white expense
some greens yearn for spring
2
flaming forward fast
amidst lemon, crimson, rust
topaz tree tops flash
3
jeweled mums abound
albino pumpkins astound
topaz tree tops last
4
autumn breezes blow
topaz tree tops flash then fall
while October goes
Mary Folliet
---
TEN WORD POEMS
"Love the words."   –Dylan Thomas
WINTER WHITE:
FOR WALLACE STEVENS
snow salt
snow sand
snow sound
snow man
snow blind
  SEX TODAY
free porn
hasty hookups
futile fucking
 #MeToo guilt
loveless loving
MANIC MORNING
daily panic
tiring & trying
'time-being'
just saying
forgiving
 27 JANUARY
Auschwitz & Mozart
side by side
man's shame
man's pride
DELACROIX'S RECIPE
elements for a composition:
the observed
the remembered
the imagined
BETRAYED & BETRAYED
true love trusts
'twas ever thus
but not for us
Mary Folliet
---
TANKA FOR THE ARTISTS*
+Inspired by/ For Kirkland Lightsey+
"If there were a middle     ground between things and the soul
or if the sky resembled more the sea…."
             –John Berryman (1914-1972)
Beatific hands
across a blue sea of keys
weave sky's melody:
grateful for this sacred gift
soulful things enraptured fly.
       *Performed & recorded live with Rufus Reid & Kirk Lightsey
at Bradley's for Sunnyside Records.
Mary Folliet
---
all work copyright ©Mary Folliet 2020