Welcome & Take your seat! On the table: London Blog, Expat New Yorker, Atlanta Varsity Restaurant. Quentin Crisp, Jim Jarmusch, Julia Child. Let's dine on the time.

Episode motto: "Progress not Perfection" … Anything worth doing is worth doing imperfectly.

Link :
Listen to "1. Pilot: What'll Ya' Have? London, New York, Atlanta" on Spreaker.
Dr Phyllis Levy – Sex Talk WLS Chicago
Chatting with David Sedaris
Real Radio: WLS staff photo
Then: Chicago Tribune
Now: Hawaii TimeOUT (Did she know Wayne Dyer?)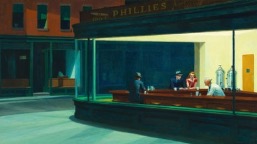 Genius Jim Jarmusch
Coffee & Cigarettes

The Varsity, Atlanta – A Southern American Original! What'll Ya' Have?